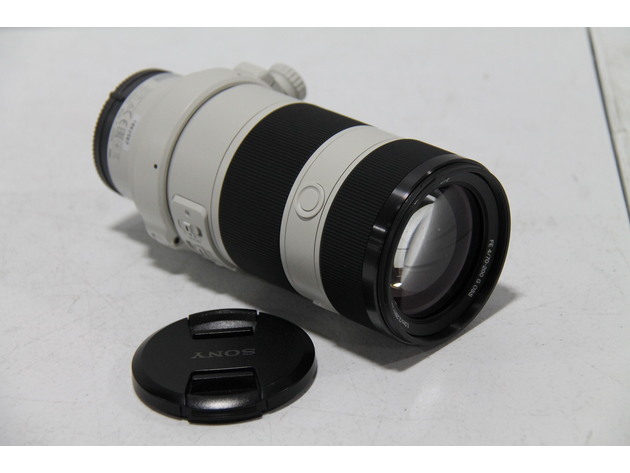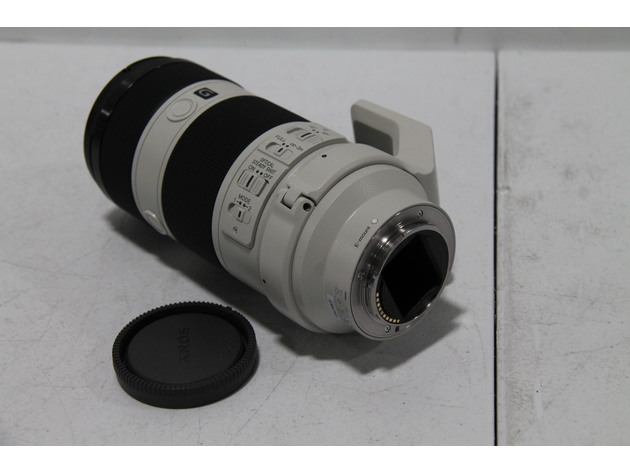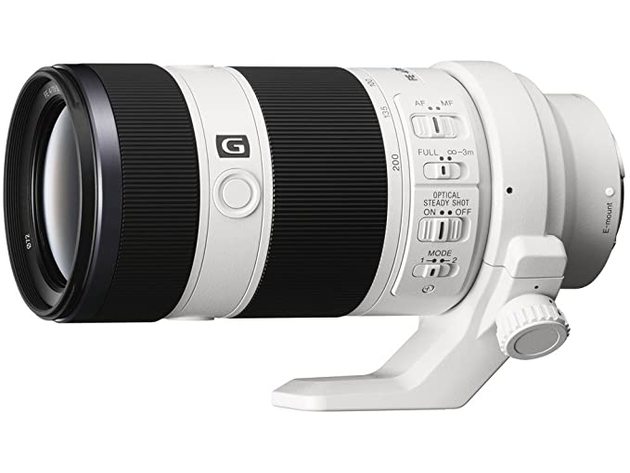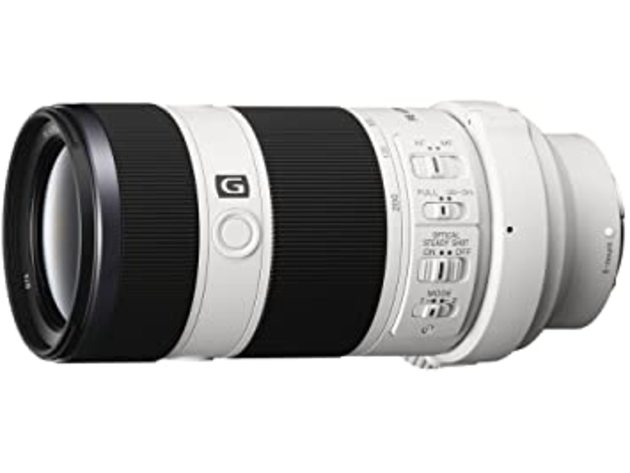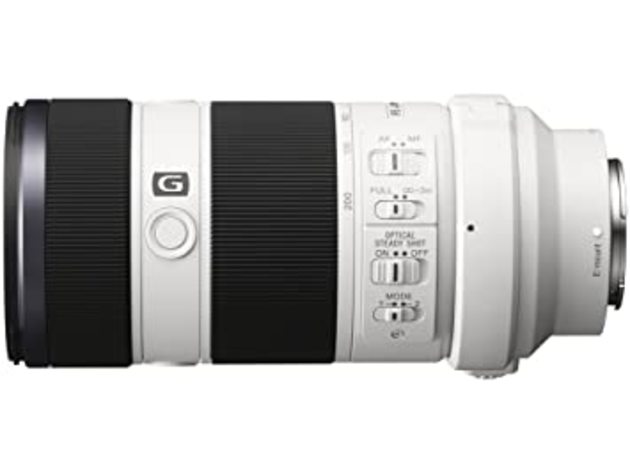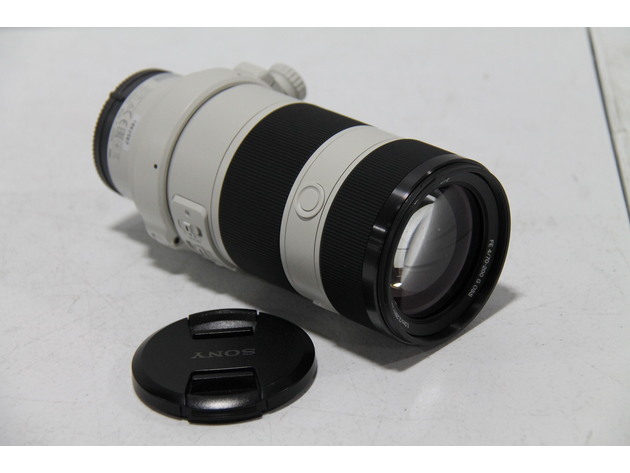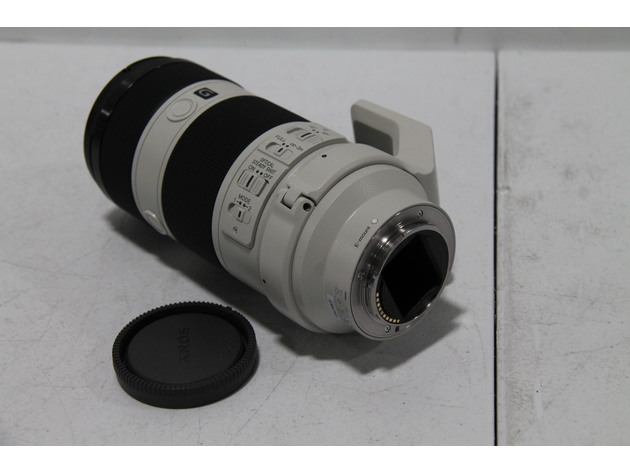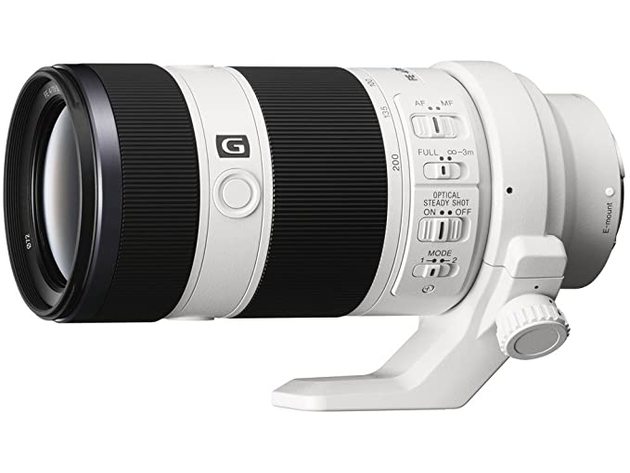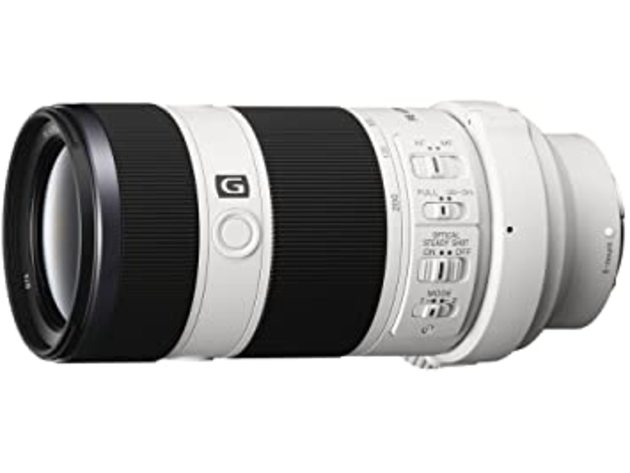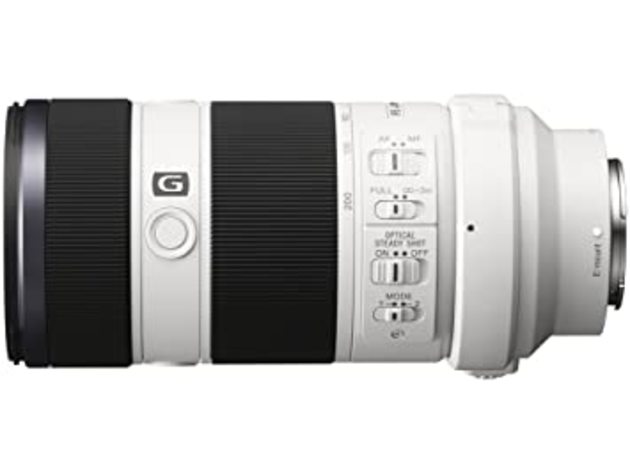 Sony SEL70200G FE 70-200mm F4 G OSS Interchangeable Lens for Sony Alpha Cameras (Refurbished, Open Retail Box)
Sold Out
$1,329.99
$1,481.92
by Sony
Description
Sony SEL70200G FE 70-200mm F4 G OSS Interchangeable Lens for Sony Alpha Cameras
Specs
Sony SEL70200G 70-200mm Interchangeable Lens for Sony Alpha Cameras. Angle of View 34°-12° 30' The small size, versatile 35mm focal length, and outstanding overall performance of this Carl Zeiss Sonnar T* lens make it an ideal match for compact 35mm full frame format E-mount bodies. Although the optical design is state-of-the-art, this superb wide angle lens remains true to the original Sonnar concept with a bright F2.8 maximum aperture ("Sonne" means "sun" in German). Three double-sided aspherical elements minimize aberration so that stunning contrast and resolution are maintained right out to the image edges at all apertures. The renowned T* lens coating contributes to natural color reproduction as well. When changing your aperture to defocus the background, the light sources appear blurred. This 'bokeh' effect of the blurred background can be enhanced with circular aperture blades used in this lens. Conventional aperture blades have flat sides creating unappealing polygonal shaped defocussed points of light. α lenses overcome this problem through a unique design that keeps the aperture almost perfectly circular from its wide-open setting to when it is closed by 2 stops. Smoother, more natural defocusing can be obtained as a result. Effectively suppress reflections that can cause flare and ghosting with Sony's original Nano AR Coating technology. This precisely defined regular nano-structure allows accurate light transmission, contributing to high-quality images, even more so than lenses with coatings that use an irregular nano-structure. The reflection suppression characteristic of the Nano AR Coating is superior to conventional anti-reflective coatings, providing a notable improvement in clarity, contrast, and overall image quality. As focal lengths get longer, lenses built with conventional optical glass have difficulties with chromatic aberration, and as a result images suffer from lower contrast, lower color quality, and lower resolution. ED glass dramatically reduces chromatic aberration at telephoto ranges, and provides superior contrast across the entire image, even at large aperture settings. Super ED glass provides enhanced compensation for chromatic aberration. Aspherical lens design dramatically reduces spherical aberration while also reducing lens size and weight. Spherical aberration is a slight misalignment of the light rays projected on the image plane. This is caused by differences in refraction at different points on conventional spherical lenses which degrade image quality in large-aperture lenses. Specially shaped "aspherical" elements near the diaphragm restore alignment of light rays at the image plane, maintaining high sharpness and contrast even at maximum aperture and can also be used at other points in the optical path to reduce distortion. Well-designed aspherical elements can reduce the total number of elements required in the lens, thus reducing overall size and weight. Advanced Aspherical (AA) elements are an evolved variant, featuring an extremely high thickness ratio between the center and periphery. AA elements are exceedingly difficult to produce, relying on the most advanced molding technology to consistently and precisely achieve the required shape and surface accuracy, resulting in significantly improved image accuracy and quality. Once you've adjusted focus to where you want it, pressing this button on the lens barrel will keep the lens locked to that focusing distance. The preview function can also be assigned to this button through the camera's custom settings. This function allows you to set a limit on the focusing range which can save you time during AF operation as the lens will not 'hunt' through the entire focusing range. In macro lenses, this limit can be on either the near or far range (as pictured). In the SAL70200G, the limit is set on far ranges only. In the SAL300F28G, focusing can be limited either to a far range or to a range that you specify yourself. Only the middle groups of the optical system move to achieve focus, so the overall length of the lens does not change. Other important benefits include fast autofocusing and a short minimum focusing distance. Also, the filter thread at the front of the lens does not rotate, which is convenient if you're using a polarizing filter. Aluminum alloy is used in the construction of the G Lenses and other high-end lenses to ensure high optical performance. This material is lightweight, durable, and highly resistant to the effects of temperature change. Gyro sensors built into the lens detect even the slightest movement, and the stabilization lens is precisely shifted to counteract any image blur that might occur. The use of precision, quiet linear motors and technology inherited from high-end Sony professional camcorders results in exceptionally quiet, effective image stabilization that contributes to high-quality movies as well as stills. The dust and moisture resistance design makes this lens appropriate for heavy-duty outdoor use, especially when combined with a camera that employs weather resistant measures. 2014 Sony Electronics All rights reserved. Reproduction in whole or in part without written permission is prohibited. Sony is not responsible for typographical and photographic errors. Features and specifications are subject to change without notice. All rights reserved. Sony, the Sony logo, (alpha) log, G logo and SteadyShot are trademarks of Sony. All other trademarks are trademarks of their respective owners. Sony and the Sony make.believe logo are trademarks of Sony. Carl ZEISS and ZEISS is a trademark of Carl Zeiss and Sony Corporation. All other trademarks are trademarks of their respective owners.
Specifications:
Make sure this fits by entering your model number.
Minimum focus distance:1–1.5 m (AF)/1–1.35 m (MF) (3.28–4.93 ft [AF]/3.28–4.43 ft [MF]), Maximum Magnification ratio : 0.13x, Focal-Length : 70–200 mm
SEL70200G
Technical Details:
Brand Name: Sony
Lens Type: Telephoto
Compatible Mountings: Sony E
Maximum Focal Length: 200 Millimeters
Minimum Focal Length: 70 Millimeters
Style: Lens Only
Product Dimensions: 6.89 x 3.15 x 3.15 inches
Item Weight: 1.85 pounds
Item model number: SEL70200G
Shipping
Ships to Contiguous US
Expected Delivery: May 27 - May 31
Terms
Returns accepted within 30 days of shipment for orders within the Contiguous US.